Compost Caddies
Our range of compost caddies is unsurpassed and features caddies that are unique to All-Green – You won't find them sold by any other retailer!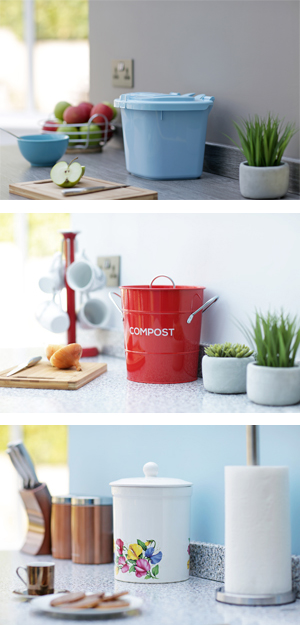 Our aim is to supply the widest selection of types and colours of caddy, both for indoors and out. From the vast choice of materials, designs, colours and options, you're sure to find one to suit your kitchen and needs.
Plastic Caddies
These are hard wearing, durable and good value for money. Kept on the work surface or hidden away under the sink, these plastic kitchen caddies are ideal for the average household. Available with or without filtered lids, and even as a fully vented caddy, plastic food waste caddies provide the best value for money.
Bamboo Caddies
Fantastically good-looking, yet environmentally friendly, these bamboo compost caddies are manufactured from recycled bamboo fibre. A cross between a plastic and ceramic caddy, all our bamboo kitchen caddies are dishwasher safe and feature filtered lids.
Metal Caddies
Good looking and practical, our range of metal compost caddies deserve to be shown off on your kitchen worktop. Our widest selection, we offer many different sizes, colours, shapes and options of metal kitchen compost caddy, such as filtered lids and inner buckets for easy cleaning.
Ceramic Caddies
Our most prestigious and premium product! Three distinct ranges offer terracotta and stoneware ceramic caddies, including our featured decorated designs. All with filtered lids and an ingenious bag-ring, our top of the range ceramic kitchen caddies will definitely impress!
To shop our compost caddy collection, click here.